A case study of Wide Design, which has installed the JV330-130 and TxF150-75, was published in the sign industry magazine "Kanbankeiei" , Vol. 28 (August 2023 issue).

The following is the published article in its original form.
---
A heavy user of All Mimaki's latest models speaks out
―Strong trust in pursuit of usability and stable operation―
---
Wide Design, headquartered in Kamisato-machi, Saitama Prefecture, started in January 1992 as a manufacturer of screen-printed road signs. In October of the following year, the company made a major shift to wear printing as its main business, with an eye to employee safety and business prospects. In doing so, the company decided to use a cutting plotter instead of a copying machine, which was too expensive and unaffordable at the time. This was the beginning of the encounter with Mimaki. Subsequently, the company has expanded its business to include signboard production and construction, with sales centered on the wear print division.

President Chikako Nakajima looks back on the time of the company's establishment. She recalls, "No matter how careful we are in handling the tin used for signage, injuries are bound to occur. I was happy to have more work, but at the same time, I felt a growing sense of crisis that was dangerous. I decided to take the plunge into the new printing business because physical capital is essential." Although the company can make use of its expertise in screen printing, it took only one year after starting the business at the age of 21 to completely renew all its facilities. Eventually, they managed to establish a direct business relationship with a major workwear manufacturer, and it's truly remarkable that they have been handling the apparel prints for well-known workwear brands for many years. Their courage and determination are truly astounding.

Their proactive approach has been a consistent strength of the company, earning them the trust of clients to the extent that they are entrusted with not only signboard production but also the entire construction of stores. Their journey so far can be described as intertwined with the evolution of Mimaki printers. In particular, the introduction of the water-based pigment printer "JV2" in 2000 caught the attention of a chain of beauty salons' president, leading to a contract for signboard production for all their stores. This pivotal moment led to the establishment of a new signboard production department. Since then, they have consistently kept up with the latest production lines, quickly adopting Mimaki's cutting-edge printers, such as the eco-solvent printers "JV3" in 2002, "JV33" in 2007, and "JV300" in 2016, to always stay at the forefront. Currently, they have numerous direct contracts with a wide range of clients, including prominent school corporations with over 100 campuses nationwide.

"We hold Mimaki printers in high regard, with the ability to operate them with peace of mind. The occurrence of machine malfunctions that would cause it to stop has decreased to about once or twice a year, and if maintenance is required, a simple call in the morning results in recovery by noon. Even for companies with just one large-format printer, the agility and responsiveness of Mimaki make them feel confident in approaching their work. This reliability has remained unchanged since the days of the JV3." President Nakajima places great trust in it.

In August 2022, they promptly purchased the flagship model of eco-solvent printer, "JV330-130," and in June 2023, they acquired the DTF printer "TxF150-75" immediately after its release. As a heavy user of Mimaki printers and a leading expert in apparel printing, President Nakajima shares her insights on the advantages of JV330 and TxF150.
---
― Please let us know the reason behind our decision to introduce JV330.
---
---
Well, it's because it's the latest model (lol). The image quality and speed have improved even further, and we heard it comes with XY slitters and a media changer. There was simply no reason for our company not to invest in such a machine. In reality, equipment tends to age gradually with daily use. Therefore, we place great importance on keeping the tools we use for work up-to-date.

Once we started full-scale operation with JV330, the color saturation appeared to have significantly improved. Especially reds and oranges appear much more vibrant, and you can notice it at a glance. Additionally, since the days of JV3, we have been using large-format printers to produce screen printing film. With JV330, we have experienced a very high accuracy in ink deposition, where lines below 1pt come out cleanly."
---
---
― How about the usability of the XY slitter and media changer?
---
The XY slitter is perfect for mass-producing indoor posters and similar materials. It eliminates the need for the labor-intensive process of unrolling and cutting by hand with a long ruler. Now, we can simply spread out the material and let the XY slitter handle the cutting. This has eliminated any worries about human errors or tight deadlines.

As for the media changer, it allows us to set three rolls at once. We keep the 1,100mm and 1,370mm wide gray adhesive-backed vinyls, which we frequently use, permanently set up, and the third roll can be easily switched depending on the situation, like milk white vinyl or PET. For projects involving 3x6 boards or 4x8 boards, we find it extremely convenient to be able to switch media quickly just by turning a handle. The user-centric design, including the ease of replacing the 2L ink packs, makes us feel that a lot of thought has been put into its development from the user's perspective.
---
― Please explain the background behind the introduction of the TxF150.
---
---
We had a vision of increasing our order volume not only from BtoB (business to business) but also from BtoC (business to consumer). To achieve this, we focused on DTF (Direct to Film) printers, which are ideal for small-batch production. Moreover, considering the regulations on phthalate esters in Europe, we anticipated that oil-based plastisol inks would become increasingly challenging to use in the future. Thus, we believed it was crucial to make an early transition to water-based pigments. However, when we evaluated existing machines from other companies, we encountered various concerns, such as frequent head failures and the necessity for precise temperature control. These issues only added to our apprehension. But then, amidst these considerations, we heard a rumor that Mimaki was developing a DTF printer. To our surprise, they actually announced the TxF150, and without hesitation, we immediately reached out to them (lol).
― How do you feel about its potential?
When white ink is used skillfully, even fine characters or lines adhere perfectly, resulting in a highly durable finish. The logo on my uniform is also printed using the TxF150, and even after multiple washes and scratches, there is not a single mark. Moreover, I'm surprised by the high level of expression, which is no different from full-color printing using conventional large-format printers. Although there is some effort to shake the white ink pack before operation, I believe Mimaki will likely automate that soon. TxF150 is suitable not only for small batch production but also for projects with 500 sheets per batch, and it is more efficient than screen printing. Especially for highly detailed designs, considering the labor-intensive process of cutting film, I feel that there's no reason not to use DTF.
---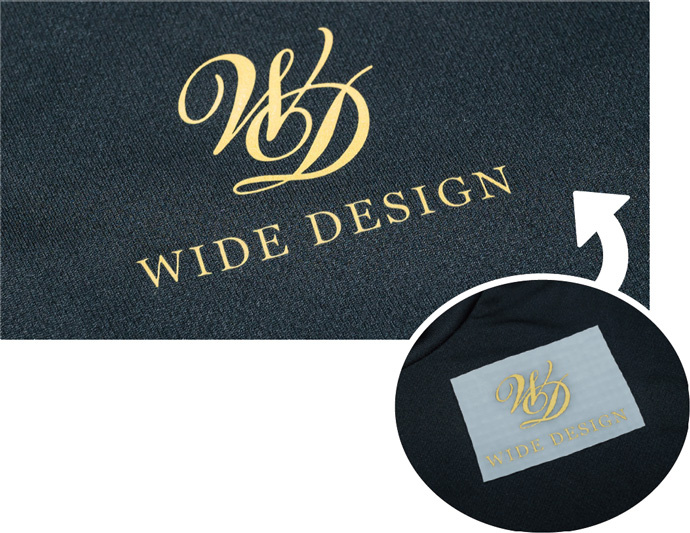 ---
― I feel a significant sense of accomplishment. How about the feedback from customers?
---
Every day, we receive the same specifications, and I sometimes doubt my eyes, thinking it must be a mistake (lol). That's how incredible the volume of repeat orders is. I'm delighted that everyone highly appreciates the excellent finishing quality.

Also, recently, we've been handling a lot of polyester fabrics made from 100% recycled PET resin, but we were troubled by a phenomenon called "bleeding," which caused discoloration on the print surface. However, this issue was resolved by switching production to TxF150, and it provided us with great reassurance. Considering the future, the utilization of recycled materials is an essential factor that cannot be overlooked.

In the future, if you aim to differentiate yourselves from other companies in the garment printing business, wouldn't TxF150 be the best choice?"
---
User profile
Name

Wide Design Co., Ltd.

Industry

Design, Planning, and Construction of Retail Stores and Office / Spaces, Sign Design, Fabrication, and Installation, Silk Screen Printing / Computerized Embroidery, and Sign Division (Inkjet Output)

Address

1026-6 Nagahama, Kamisato-machi, Saitama, Japan

Phone number

+81-495-71-9909