Case Study
Kyoritsu Ad Studio Ltd. (Kawaguchi city, Saitama) Mimaki user stories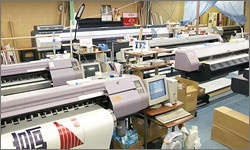 Photo printing and larger signage are required at a current signage market.
The first user of grand format JV5 printer. The wide printing width is the big appealing point for clients.
WORKS CO., LTD. (Yokohama city, Kanagawa) Mimaki user stories
Reducing the outsourcing cost for vehicle wrap film printing.
The cost is reduced by a printer. White ink allows to exhibit new design presentations.
LABTOKYO Co., Ltd. (Shinjuku-ku, Tokyo)Mimaki user stories
Change the main printing method from analogue to digital.
Mimaki printer meets the required print quality. White ink printing on PET film appeals to clients.