ArtiosCAD Designer Solution: Specialized software for simple package design
■Builder (Package creation using standard designs)
Easy package design creation by selecting a design style from a standards catalog and entering dimensions.
■Designer (Original design package creation)
Designer comprises a range of useful tools for creating an original package design from scratch.
■Connection Plus
Connection Plus is used to design data exchanges. Paper size, origin point, output formats, and other detailed settings can be specified.
Builder (Package creation using standard designs):
Easy package design creation by selecting a design style from the catalog
---
Builder allows a designer to create a package design in a few minutes by selecting a design style from the catalog and specifying length, width, and depth.
In addition, dimensions of the design are automatically adjusted according to the thickness of the material specified.
---
◎ Package design creation procedure
---
1. Select a design style from the "Standards Catalog."

Note: Please click here for more details.
---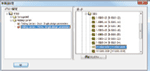 2. Enter the thickness of the packaging material on the "Single-Design Setting" window.
---
3. Enter the interior dimensions (length, width, and depth) and click "OK." (*)

*Parameters, shapes, and sizes of flaps can be specified by clicking "Next."
---
4. A diagram is displayed when the package design is completed.
---
Designer (Original design package creation):
Simple original package design creation
---
Designer helps users create an original package design with various tools for drawing lines and rectangles and rounding off corners.
◎ Useful functions for package design creation
---
Rectangle from Line
This tool creates a rectangle based on a line on the diagram.
---
Copy Mirror about Vertical
The item selected is easily mirrored and copied on the vertical (x) axis.
---
Line
This tool is used to draw a line. To draw a preferred line, the angle and length need to be specified.
---
Blend
This tool rounds the corners of items. Rounded corners are drawn by entering corner radius.
---
Trim Interior
This tool deletes part of a line. The line is automatically divided at the cross line.
---
Conline* At Angle From Line
This tool draws a diagonal conline.

* Conline: Construction line
---
Simple mock-up creation with ArtiosCAD DS, UV inkjet printer, and cutting plotter
---
---
Original Goods Package System (OGPS) reduces the time spent on the process of making a prototype package. Conventionally, there were many work processes to create the package that suits a product. You would ask an outside contractor to create the package, and it would take a long time to complete the work because of misunderstandings, distance, time differences, etc.
OGPS consists of the ArtiosCAD DS, the CFL-605RT*, and the UJF-6042* inkjet printer. The system offers a total solution not only for printing on a product but also for the design and creation of product/cushion packaging. OGPS delivers effective high-mix low-volume production and significantly shortens the lead time for prototype creation and small lot production by on-demand production.
* CFL-605RT and UJF-6042 are sold separately.
---
Flatbed printer: UJF-6042
The UJF-6042 is an LED UV flatbed inkjet printer that is capable of printing on an object up to A2 size (420 × 594 mm / 16.5 × 23 in.). It can print on a product as well as on packaging materials.

>> UJF-6042|Product page
---
---
---
Compact cutting plotter: CFL-605RT
The CFL-605RT delivers efficient on-demand package and cushioning production with various functions, including eccentric, tangential, and reciprocating cuttings and creasing. Effective cutting area is A2 extra (432 × 610 mm / 17 × 24 in) and greater.

>> CFL-605RT|Product page
---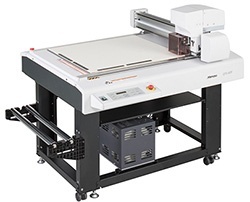 ---
【Application】 Printing on USB memory and creating packaging
---
---
Movies
---
1-1. Activation procedure
1-2. Deactivation procedure
2. Builder: Simple package design with variety of templates (styles).
---