Request for checking the version of RasterLinkPro5 and Windows OS before installation:
Windows7 is supported by RasterLinkPro5 Ver.2.00 or later
Windows8 is supported by RasterLinkPro5 Ver.4.00 or later
Windows10 is supported by RasterLinkPro5 Ver.4.70 or later
If you installed Windows7/8-unsupported-version of RasterLinkPro5, it might cause some problems.
When installing RasterLinkPro5 into Windows7 or Windows8, please be sure to install the latest version of RasterLinkPro5.
The latest version of installer is available to download from here.
Note: Please visit this page for more detailed information about supported operating systems.
16 bit rendering increases a print quality and DIC color collection makes color matching work more efficiently.
RasterLinkPro5 IP meets professional demands by 16 bit rendering and the excellent color reproducibility.
---
Smooth gradation with 16bit rendering.
---
16 bit rendering generates smoother gradations resulting in finest quality for outstanding prints.
16 bit rendering maximizes the output potential of all your Mimaki inkjet printers.
---
---
Mimaki color collection guide
Producing desired color
Before starting the production, color specification can be done according to color collections printed on the media used for the actual production. Mimaki collection guide reduces the cost for color matching.
Easy to print DIC color colletion Type 1 and 2.
* PDF data is attached.
---
---
Automatic spot color conversion
---
More precise color management!
---
A spot color is automatically converted to CMYK values by Adobe Illustrator-compliant DIC color collection. The stable color matching is achieved by quantifying the color difference.
---
A spot color is automatically converted by Adobe Illustrator DIC※1 swatch library.
The color difference is quantified and represented as ΔE value. Specific value can standardize the level of color difference.
Thanks to specific values, there is no need to print out image many times for color matching. Time and cost are considerably saved.
---
*1: This function is available for PS and EPS formats.
The converted color is the approximate color of DIC color collection guide, is not the same color as an actual color chip.
*2: ΔE value represents the dfference between two colors.
---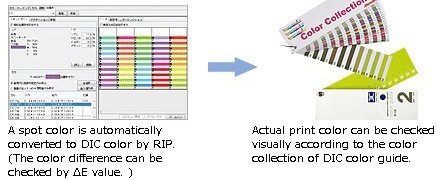 ---
[NEW]

Web update function
---
The web update function is added to RasterLinkPro5 series to easily achieve both software update and profile download.
---