Mechanical structure achieves high-precision printing
To improve precision, modifications applied are as follows.
To reduce printer unit vibration, the print table moves during printing instead of the Y-bar. Two ball screws are installed on both sides of the table to assist with its movement. In addition, four motor-driven legs are added beneath the table to maintain horizontality when the table is lifted or lowered.
---
---
Mimaki's print technologies for achieving beautiful printing
---
Mimaki Advanced pass System 4 (MAPS4)
Generally, swath boundaries are straight lines. Therefore, a slight misalignment between boundaries causes banding or uneven color printing. MAPS4 reduces banding and uneven color printing with blurred boundaries similar to gradation printing.
---
---
■MAPS4 applied
Banding and uneven color printing are reduced by scattering swath boundaries. Beautiful print image is obtained.
---
---
---
■No MAPS4
Bandings appear on swath boundaries. Print quality is remarkably degraded because banding is recognizable on each boundary.
---
MFD1—Mimaki Fine Diffusion 1
---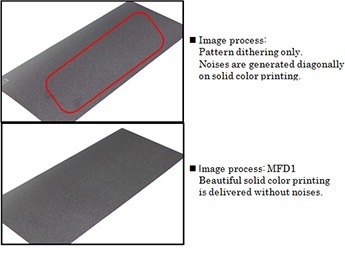 Dithering is an image processing technique, which transforms image data for inkjet printing. Pattern and error-diffusion dithering may, however, generate particular image noise resulting in uneven color printing or tone jumps, even on a high-performance printing unit.
The newly developed RasterLink 6 software,*1 incorporating the patented*2 image-processing MFD1, reduces noises due to dithering through hybrid processing of pattern- and error-diffusion dithering, thereby enhancing printing quality.
*1 MFD1 is available for Version 4.0 and higher
*2 Patent number: 5230816
---
Maximum 3.3m2/h* productivity
---
An array of six staggered printheads increases the printing speed and achieves top-level productivity in the same product category. The UJF-7151 plus supports effective production through high-speed printing at approximately twice the speed of previous models and approximately 2.6 times that of competitive models. Furthermore, by expanding the print area to 710 × 510 mm (28 × 20 in), it is possible to print at the size of 636 × 469 mm (25 × 18.5 in), which is often used for screen printing.
*Print conditions:600 × 600 dpi; 8 Pass
---

---
Reliable operating support package
---
Ink and media shortage, clogged nozzles, and other minor problems influence stable productivity.
The UJF-7151 plus fully supports continuous printing with reliable technologies.
New printhead's ink-circulation system reduces clogging nozzles
The ink-circulation system in the head reduces ink settling and thus provides stable ink jetting. In addition, this system removes air bubbles, which plug the nozzle.. Thanks to this function, the nozzle-cleaning frequency is reduced, and accordingly, cost-effective stable printing is achieved.
---
---
---
NCU automatically detects and recovers clogged nozzles
Clogged nozzles are detected automatically by monitoring ink droplets with sensors. When clogged nozzles are located, these are automatically cleaned, reducing waste printing. Nozzles are checked per transfer file.
NRS for maintaining productivity
If the clogged nozzles are not recovered after cleaning through the NCU function, the NRS selects substitute nozzles and then restarts printing. This is a significant novelty, since previously, when nozzle cleaning fails, the printhead has to be repaired by a technician, and the printing operation ceases until the printhead is repaired. The NRS* allows the printer to continue printing without interruption by using non-defective nozzles as substitutes for defective nozzles until the technician arrives.*
*NRS may not be activated depending on print modes.
---
---
Model
| | |
| --- | --- |
| UJF-7151 plus | Maximum print area: 710 x 510 mm (28 x 20") |
Corresponding Ink